Go back
Benefits of Cross Platform Mobile Application Development
What are the benefits of cross platform mobile application development? A progressive mobile app development idea must not be restricted by a budgetary perspective. Evolution of cross platform mobile application development has managed to aim this in a drastically positive way. The two major unique selling point of these apps is a quick development process and cost-effectiveness. These are also the reasons why this platform gained popularity across the globe in a short time span. Also, its growing demand has encouraged a lot of mobile application development service providers to embrace the thought of developing cross platform solutions.
Startups and SMEs usually look at this platform as a technological blessing helping them build a network through multiple mediums. Fascinating factors like shorter time to market and minimum development cost have further boosted its market demand.
Statistics justify our words and proved how immensely cross platform app development has grown. Check out some stats,.
Xamarin app development services introduced in 2011, holds the market share of 31% in US alone
PhoneGap with a market share of 22.9% makes it one of the most promising cross platform frameworks
Ionic, another cross-platform app framework, is used by around 25,993 applications
Now that is not just exciting but huge too!
Cross platform mobile application development is known majorly for the benefits it offers. In this blog, we are shining some light on its significant advantages. They are as below,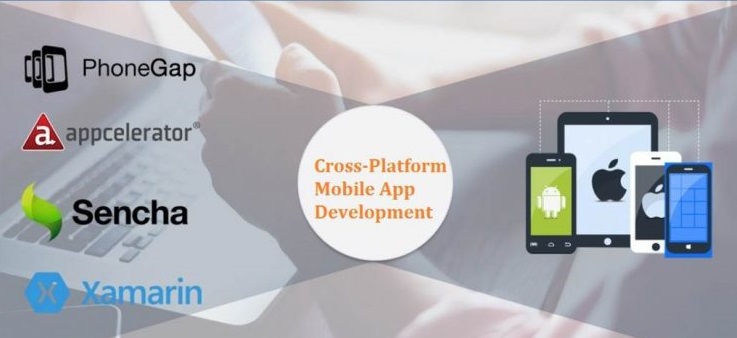 Get Easy Plug-in Access
An elite trait of cross-platform mobile application development has been its ability to offer you easy access to plug-ins. This answers why the development process is so much simplified here. This technologically advanced world has developed tremendously, for instance, the introduction of PhoneGap and Accelerator have made plug-in access easy.
These technical factors make it easy for a mobile app development service provider to perform essential changes without much hassle. This eventually means that one can use standard links on any platform and can easily modify them.
Presence of Uniformity
Any application's success is measured by the user experience it offers. Choosing the cross platform mobile app development makes sure that the look of an application is uniform across every platform. It gets inconvenient to use the same app differently on a different device. Cross platform eliminates the possibility of this inconvenience. The single code base used to develop applications makes it easy to provide a better outlook.
Great for Prototyping
Strategizing a fully-functional prototype is essential for any company that wishes their idea to thrive in the market. Cross-platform allows a developer to complete the development process before time and secure a spot in the market. To make a lasting impact it is important to hit the market soon and freeze the opportunity.
Cross platform mobile app development is a concept that has been widely accepted by developers worldwide. SA Technologies merges multifaceted skills from multiple areas of design, analytics, marketing, etc. If you are looking for a cross platform mobile application development service provider for your development needs, then we can help you.